Long before Dexter was a community, the area now occupied by downtown was nothing but wilderness. Delaware and Shawnee Indians made their home near this wilderness for a short time from the late 1700s until 1829.  Within a few years after the last Native Americans left the region, settlers arrived in the area that would become Dexter.  Most of these settlers originated in North Carolina, Kentucky and Tennessee.  They settled south of present day Dexter at a small settlement called St. Luke, located along Deck's Creek.  The Deck family, depending on the source, arrived in the region sometime before the Civil War.  By the time the railroad crews came through looking for a suitable place to lay track in 1872, there were a few homes and even a couple of stores located along Deck's Creek.  The mainly Irish railroad construction crew camped just east of Deck's Creek on Thrower's Hill.  Colonel E. W. Deal built a railroad dump and camp on Deck's Creek which they spelled as Dex Creek.  Depending on which source is used, most say that Dexter was named for the creek and a racehorse owned by Mr. Webb.  Webb named his horse after the creek and a nationally famous racehorse named Dexter.  Webb's Dexter was well known locally from the race track in nearby St. Luke.  Deal, a fan of horse racing, knew Webb and likely named the town Dexter after his horse and the creek.
Deal's camp on Dex Creek consisted of a boarding house, a store and a saloon.  His men worked with oxen teams and wheel-barrows to clear the right of way for the railroad dump across Dex Creek.  William Sprinkles, later one of Dexter's first city marshals, was foreman over the railroad workers.  When the railroad was completed and lots were surveyed, most of the commercial plots were located up on the hill (downtown).  Lots sold from $25 to $300 each, the lots near Dex Creek sold for lower amounts due to constant flooding in the valley between Dexter Hill and Thrower Hill.  Flooding remained an issue until the 1930s when the Works Progress Administration built drainage ditches and viaducts to drain the water when it flowed over the banks of the creek.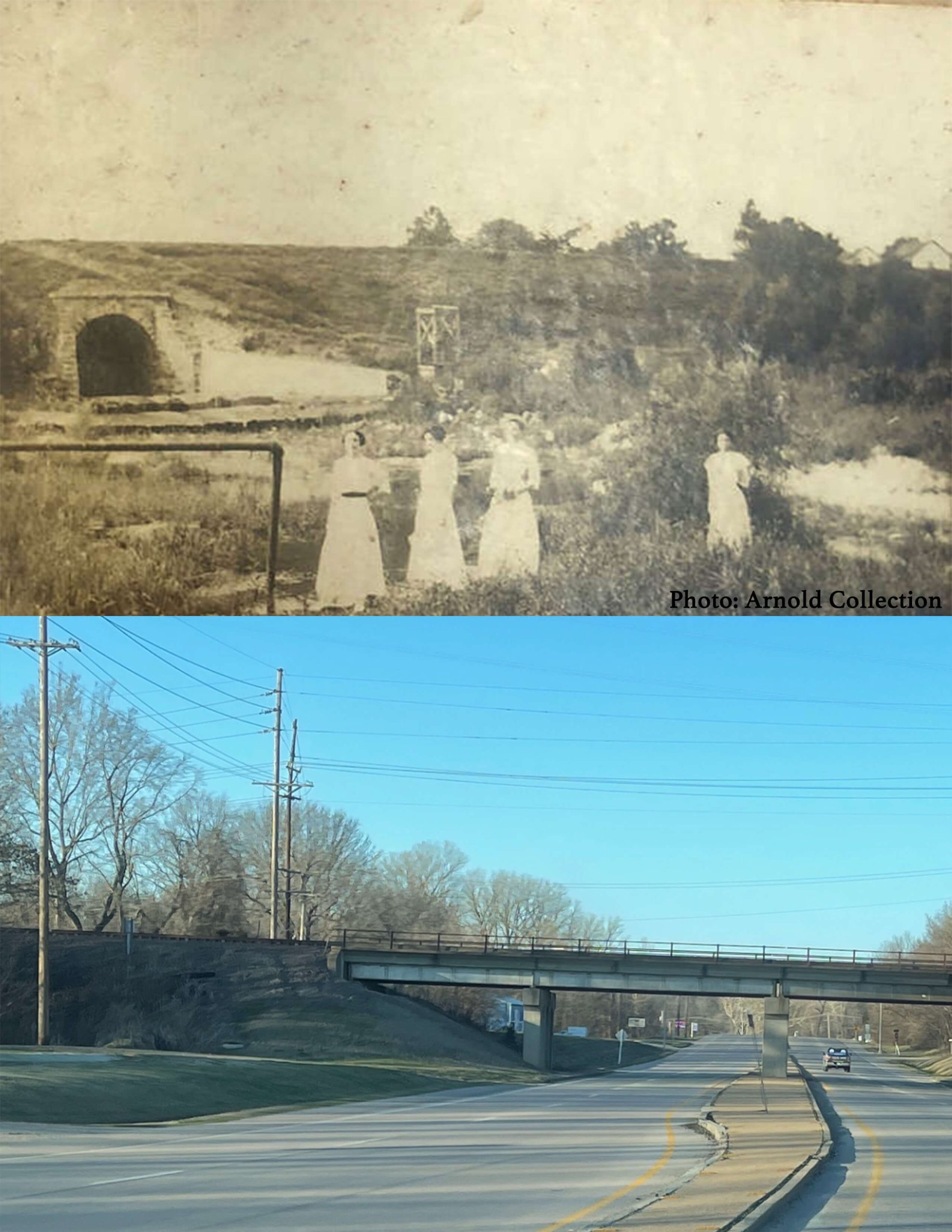 For years Dex Creek became a source for gravel for the first concrete sidewalks built in the city as it expanded.  Locals built a small dam on the creek for a swimming pool to cool off in during the hot and humid summers.  Stoddard County Sheriff Evans told The Dexter Messenger that, "Once you get your feet into this Dexter Creek out here, you'll never want to leave."  Local churches held baptisms in the pool, and local families gathered there to picnic and swim in the cool water.
Now, 100 years later, Dexter Creek is no longer a swimming hole, baptisms are held at church, and citizens picnic in one of Dexter's beautiful parks, but Dexter Creek was once the hub of activity for a budding community.
Article written by: Paul Arnold
Photo provided by: Paul Arnold